An object a day #19: Viking ship
Tue 28 Apr 2020
Opinion
Every day for 30 days we will be featuring a museum object that has inspired or intrigued us, in the hope that "an object a day keeps the doctor away." We love creating exciting, meaningful storytelling through engaging experiences, but still firmly believe that it is hard to beat the thrill of being in the presence of authentic artefacts. Today's object is: Viking ship.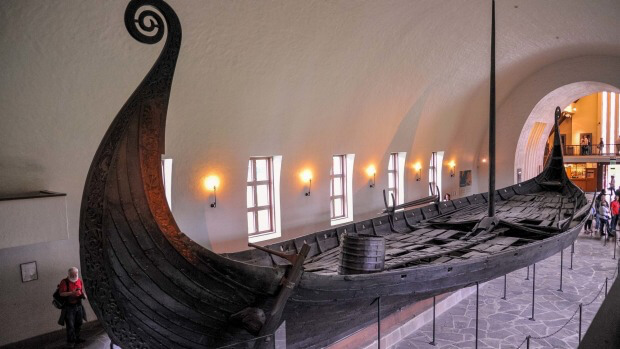 It is always satisfying when an almost legendary object lives up to your imagination. You can imagine the fear of 9th century Anglo-Saxons as they saw these magnificent ships approaching their shores full of Viking raiders.
The Oseberg ship was found in 1904 outside Tønsberg in Vestfold. The archaeologists who excavated it quickly realized that this was the most beautiful Viking tomb ever found.
When the excavation was completed, the most time-consuming and demanding work was still to come. Although the excavation itself took less than three months, it took 21 years to prepare and restore the ship and most of the finds. The ship was dried out very slowly before it was put together. Great emphasis was placed on using the original timber where possible. Today over 90 per cent of the reconstructed Oseberg ship consists of original timber.
It was built in southwestern Norway around the year 820, and is made of oak. The prow and stern are richly carved with beautiful animal ornamentation far below the waterline and up along the prow, which ends in a spiralling serpent's head; such an ornately decorated ship would have been reserved for special members of the aristocracy.
The Oseberg ship had been pulled ashore and used as a burial ship for two noble women. A burial chamber was constructed immediately behind the ship's mast. Inside, the walls were decorated with a fantastic woven tapestry, and the dead women were laid on a bed made up with bed linen. Both of them must have held a position of importance in the community to have been given such a grave.
The Viking Museum is currently closed but there is a very nice virtual tour online.