An object a day #29: children's ward Donald Duck
Tue 19 May 2020
Opinion
Every day for 30 days we will be featuring a museum object that has inspired or intrigued us, in the hope that "an object a day keeps the doctor away." We love creating exciting, meaningful storytelling through engaging experiences, but still firmly believe that it is hard to beat the thrill of being in the presence of authentic artefacts. Today's object is: children's ward Donald Duck.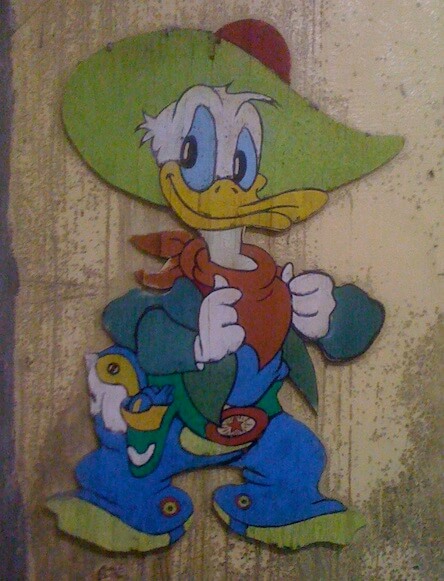 One of the objects that sticks in mind never made it into a museum.
When working on the planning for the Central Police Station and Victoria Prison (CPS) in Hong Kong (now the Tai Kwun Centre for Heritage & Arts), we took many visits to the decommissioned site. These always turned up some interesting new spaces (often former mess bars!), but one particular space was especially poignant.
To deal with illegal immigration from Mainland China to Hong Kong in the 1970s, the Touch-base Policy was implemented in late 1974, allowing a new arrival to stay if they managed to "touch base" with his family in an urban area. After its abolition in 1980 , the Victoria Immigration Centre (VIC) was set up at Victoria Prison (part of CPS) to process such cases. In the late 1980s, the problem of "overstay mothers" who had given birth in Hong Kong and overstayed their visa was growing. Between 1986 and 1988, over 300 of them were repatriated to Mainland China.
On occasions, illegal immigrant mothers and their newborn babies were accommodated in the hospital wing of the Victoria Immigration Centre in the Female and Nursery Section of D Hall's 3rd floor. In 1991, the nursery ward was decorated with some cartoons characters. And nearly 30 years later we come across these rather forlorn plywood cut-outs (Mickey was there too) in a decommissioned prison; a valiant attempt to bring young children some colour and joy in an otherwise drab environment and difficult situation.
Tai Kwun currently has some limitations on visiting. Check website for details.