HSBC History Walls in Birmingham
Thu 28 Feb 2019
Company News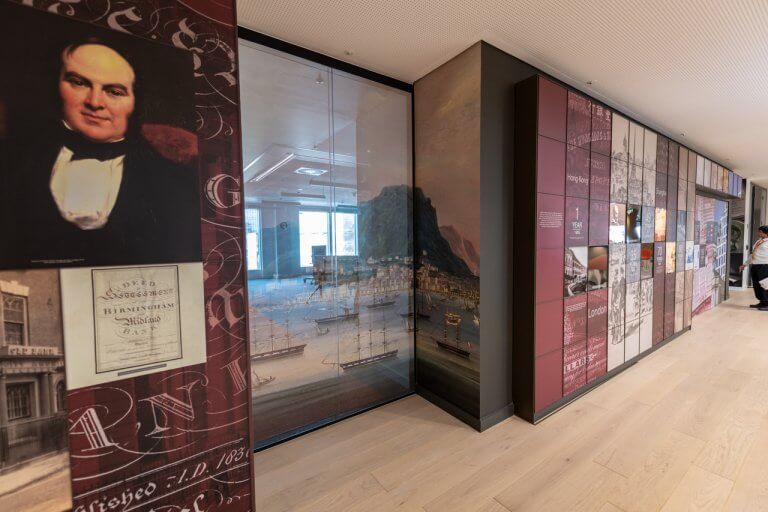 Continuing the roll out of the HSBC History Walls, we have recently completed a new archive-inspired wall for the main HQ for HSBC Archives in Birmingham, UK.
Here, we tell the story of the bank's British roots from the acquisition of numerous country banks through to the Midland Bank merger and its latest exciting chapter based in Birmingham. The mixed media display sits centrally on the University floor and forms a backdrop for the entire space and the Innovation Lab.
HSBC's new headquarters in Birmingham spans 10 floors and contains the bank's first ever digital-only branch. More than 2,000 employees can benefit from a gymnasium, dance studio and training centre dubbed the 'university'.
In March 1865, HSBC opened its doors for business in Hong Kong, helping to finance trade between Europe and Asia. A local bank in Hong Kong subsequently grew into a global financial institution. Leveraging the heritage of the global company with local historical references, we designed a series of History Walls incorporating graphics, objects and audiovisual in offices from Dubai to Istanbul.
The HSBC History Walls project emerged from our work on the HSBC Archives Gallery in Hong Kong, in association with Sugar HK Ltd. HSBC's Archives are one of the most important business collections in the world. The Archives Gallery uses beautifully crafted display cases, as well as intuitive interactive technology, to tell the story of HSBC's rich and eventful heritage in Hong Kong and the Asia-Pacific region through rare objects.
From knife coins thousands of years old to Japanese prisoner of war diaries to a global virtual archive, the Gallery takes visitors on a journey to learn about the bank's invaluable contributions to Hong Kong and makes them feel connected to the people who played their parts.
With more HSBC History Walls to come, Winkle-picker is proud to continue providing world-class museum design services to this storied global playing in banking.