An object a day #27: Chinese scroll painting
Tue 12 May 2020
Opinion
Every day for 30 days we will be featuring a museum object that has inspired or intrigued us, in the hope that "an object a day keeps the doctor away." We love creating exciting, meaningful storytelling through engaging experiences, but still firmly believe that it is hard to beat the thrill of being in the presence of authentic artefacts. Today's object is: Chinese scroll painting.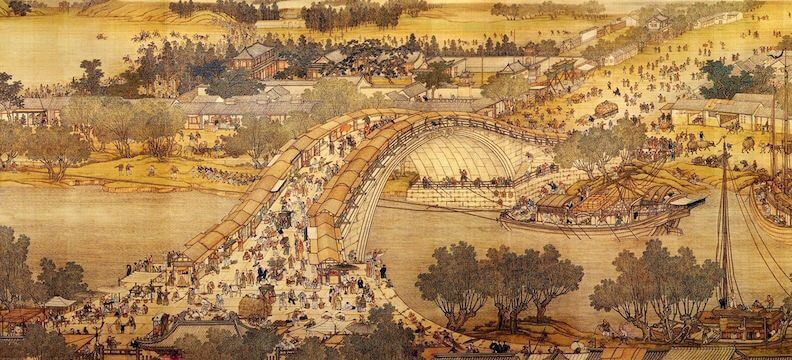 Some objects by their very nature tell their own story. Today's object – 'Along the River During the Qingming Festival' (Qingming Shanghe Tu) – is part 2 of 2 such objects. Part 1 is The Bayeux Tapestry.
It is extraordinary to think that this sophisticated 5 meter long Chinese scroll painting was created at around the same time as The Bayeux Tapestry. Certainly it was painted before the end of the Northern Song Dynasty (960-1127).
Painted by Zhang Zeduan (1085–1145), it captures the daily life of the people and landscape of present-day Kaifeng during the Qingming (or Tomb Sweeping) Festival. You can spend hours poring over the river landscape as it changes from delta, countryside, and flows through the city to the mountains. The original Where's Wally, you can spot 814 people, 28 boats, 60 animals, 30 buildings, 20 vehicles, 8 sedan chairs, and 170 trees.
It tells us about society and customs of the times. People from all walks of life are depicted: peddlers, jugglers, actors, paupers begging, monks asking for alms, fortune tellers and seers, doctors, innkeepers, teachers, millers, metalworkers, carpenters, masons, and official scholars from all ranks. Outside the city, there are all kinds of businesses: selling wine, grain, secondhand goods, cookware, bows and arrows, lanterns, musical instruments, gold and silver, ornaments, dyed fabrics, paintings, medicine, needles, and artifacts, as well as many restaurants. Different forms of transport are shown: wheeled wagons, beasts of burden (such as donkeys and mules), sedan chairs, and chariots. The river is packed with fishing boats and passenger-carrying ferries, with men at the river bank, pulling the larger ships.
There are stories that you can narrate yourself everywhere: old friends meeting in the street and arguments over traffic congestion or a trade dispute, deals being done and clandestine liaisons in inns, temples, houses and official buildings from huts to mansions.
There are many versions and copies of the painting. The first one I came across was at the National Palace Museum in Taipei, Taiwan. I was so taken with it that I made sure it was included in an interactive version (you could move a screen across portions of the scroll to see the people come alive) in the Human Culture gallery of the Hong Kong Wetland Park. The China Pavilion went one better at the World Expo 2010 by creating a large scale (30 times larger than the original) fully animated version. This is now on permanent display at the China Art Museum, the former Expo pavilion in Shanghai.