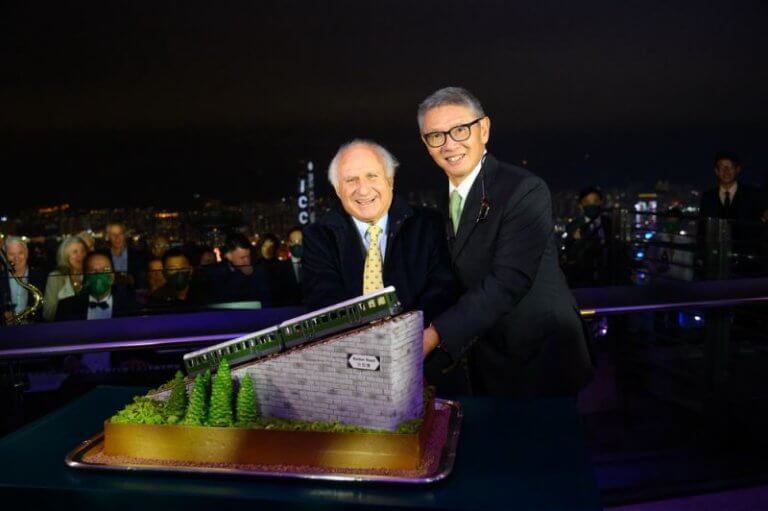 Great to see the Peak Tram re-opens with a Grand Opening Ceremony of the sixth generation on 2 December 2022 after its HK$799 million upgrade project. The Hon. Sir Michael Kadoorie, Chairman of The Hongkong and Shanghai Hotels and Mr Kevin Yeung, Hong Kong SAR Secretary for Culture, Sports and Tourism officiated at the event.
Commencing with the lighting-up of the Eye of Infinity, a 10-metre-tall sculpture inspired by Hong Kong's "spirit of ascension" by Australian artist Lindy Lee, guests enjoyed a trip on the Peak Tram and a cocktail party on Sky Terrace 428, catered by The Peninsula Hong Kong and featuring a Peak Tram-themed cake.
Winkle-picker worked with the Hongkong and Shanghai Hotels Ltd, owner and operator of The Peak Tram, and experiential designers Sarner International Ltd to produce an interpretive plan and research which acted as the basis for the new visitor experience. The audiovisual software was produced by Squint/Opera.
One of the world's oldest funicular railways, the Peak Tram is just as much a tourist destination as the spot it was built to service, Hong Kong's Victoria Peak. Government approval was granted in 1882 and the Hong Kong High Level Tramways Company was born. Construction began in September 1885 and the line was officially opened in May 1888 by Governor Sir George William des Voeux. The steam boilers were replaced by an electrically powered system in 1926. Then, in 1956, new generation lightweight metal-bodied carriages seating 62 people replaced the old wooden carriages.
In 1989, the Peak Tram was rebuilt with new tracks, a computerised control system and two new carriages with a capacity of 120 passengers. By 1997, the Peak Tram was carrying two million passengers a year and pre-Covid-19 numbers were up to four million.
With a brand new look, the new trams are dressed in a bespoke 'Peak Tram Green' colour, which calls on the Peak Tram's historic third and fourth-generation tramcars that served from 1948 to 1959 and 1959 to 1989 respectively. The new model is made in Switzerland by international manufacturers Garaventa, CWA, and Frey. Aside from wider doors and step-free access for persons with disabilities, the new tramcars have also increased their maximum capacity from 120 passengers to 210. There will be larger windows on the tram for visitors to fully soak in the panoramic views of the Hong Kong skyline. The Peak Terminus will also provide visitors with a new and informative audio-visual display. These redevelopments are said to reduce waiting times by over 70 percent.